House of Blues - Jam Night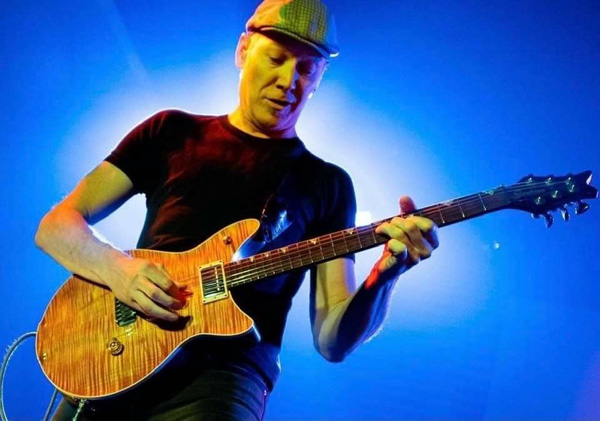 Tuesday 1st June 2021

FREE ENTRY – ALL WELCOME.
IMPORTANT: The MBAS are following Govt. mandated Covid venue procedures for your safety. All attendees must enter their contact details by scanning a QR code on entry (via smart phone).
Attendees are encouraged to pre-book for table seating due to limited venue capacity under Covid-safe regulations. Please 'BOOK' a single or multiple (Group) ticket below. To assist our kitchen's catering, when booking, please note if you plan to order a meal on the night.
JIMI HOCKING has been a familiar sight to Australian audiences for many years and is a multi-award-winning songwriter, singer and guitarist of the highest calibre, the electric love child of T-Bone Walker, BB King and Jimi Hendrix.
Along with the gold records he collected with the 'Screaming Jets' in the 1990's, Jimi has also released a large body of solo work (15 albums), from electric rock and blues, to contemporary folk and blues mandolin. In the late 90's Jimi parted from the Jets to pursue his love of the Blues, and began regular performing trips to the USA. A three time 'CAV-Best Acoustic performer', 'MBAS 2003 Male Blues Artist of the Year', 'MBAS 2004 Blues Performer of the Year', and then in 2005 Jimi won the prestigious 'International Blues Challenge' in Memphis USA, where an extensive US tour followed. In 2008 Jimi was pronounced the 'VicTas Male blues artist of the year' and also 'Producer of 2008' for his work on his album 'Blue Mandolin'. 2009 saw Jimi invited to Kathmandu to perform at the 'Himalayan Blues Festival'. In 2010 Jimi rejoined 'The Screaming Jets' to perform lead guitar duties, and the 'Jets' then went on to join 'Status Quo' for their Australian tour. The same year, his solo album 'Electric Mojo Machine' won 'best album' and 'best band' at the MBAS VIC/TAS Blues Awards. In 2011 Jimi took his 'Blues Machine' back to perform in Kathmandu and India, and following this, his 2012 electric live album 'LIVE: In The Moment' hit # 5 on the Australian Blues airplay charts. In 2017 Jimi released a Jazz/Blues EP, 'Home Cooking' with his dad Kevin Hocking OAM. This year, along with a 30th anniversary re-recorded version of the Screaming Jets 'All for One' album, Jimi is releasing his latest solo album, 'To the Moon So Blue'.


In high demand for both his solo and band performances, Jimi is in his element live on stage, whether it be a small cafe or a massive festival. His combination of banter and story-telling, wailing guitar and mandolin with superb songwriting and performance makes Jimi one of the 'must-see' acts in blues today.


Photo credit: Paul Hooper
Venue Information - Flemington Bowls Club